IwateInternationalAssociation - Newsletters and Publications
■Newsletter 'Friends with the World'   ■Mailing List   ■Other Publications
---
■ Handbook for Entering a Foreign Child into the Japanese School System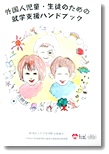 Sorry, this handbook is not in stock.
(2008)
Publisher: Iwate International Association
The number of foreign residents has been increasing and so as the number of foreign children.
This handbook has been prepared for both the parents or guardians of the foreign children and the schools that are accepting foreign students, to understand the difference in education systems and culture between Japan and the students' home country. Please have a look at this handbook if you are thinking of entering a foreign child in to the Japanese school system.
■Applications, Inquiries:
Iwate International Association
Aiina 5th Floor
1-7-1 Moriokaekinishidori, Morioka, Iwate 020-0045
For inquiries via phone and e-mail see this link ⇒ Contact Information