2012 ONE WORLD FESTA in IWATE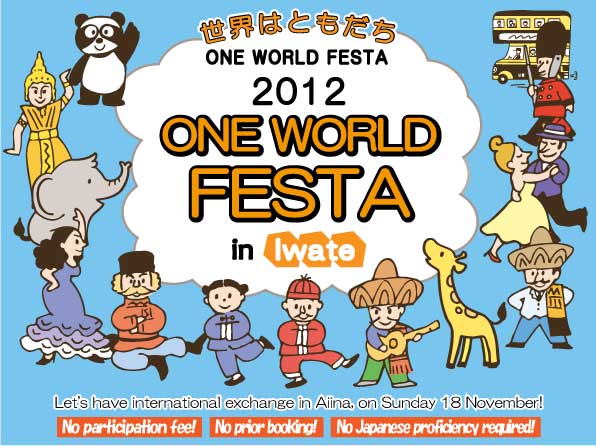 | | |
| --- | --- |
| | November 18, 2012 (Sunday) 10:00-16:00 |
| | Iwate Prefecture Information Exchange Center (Aiina) 【Access】 |
| | Note: The center has no car park. Please use the paid parking in the vicinity. |
■ Programme
★Click icons to see the details       
■ Tour Around the World (4th & 5th Floor)
With your "passport" you can visit booths representing various different countries. Let's interact with people of many nationalities!
(Asia, the Middle East, Oceania, the Americas, Europe and Africa)
● Displays by international exchange and sister-city exchange groups
● Christmas Card Corner
● Iwate Winter Resort Kyougikai booth
● UNICEF sale (by Iwate UNICEF Organization)
■ From Somewhere, to Everywhere (Music & Dance) (5th Floor)
11:00~ Kids Dance by the "Studio Ball" children
12:00~13:00 Didgeridoo (Australian traditional instrument) performance, etc.
13:30~15:00 Performance & Workshop
&nbsp&nbsp&nbsp&nbsp&nbsp&nbsp Katsushi Kikuchi of El Skunk de Yawdie on percussion
&nbsp&nbsp&nbsp&nbsp&nbsp&nbsp Richie Gill on guitar & vocals
● Everyone join in in the ending to sing "We are the World"!

(Photo) Naoyuki Ishikita, didgeridoo
■ International Lunch Time (5th Floor)
● World lunch boxes (from 4 to 5 countries) sold from 12:00
● There is a limited supply, so be sure to buy early!
■ "Fit" Fairtrade Cafe (5th Floor)
● Fairtrade coffee, tea, cake and cookies from Nepal
● Those who bring their own cups get a free cookie!
● Coffee/tea 100 yen, cake 150 yen, cookies 50 yen


(In Association with: Fairtrade Iwate)
■ Corner for Trying On National Dress (4th Floor)
● Try on the traditional dress of around 20 countries, including Vietnam's ao dai and Korea's chima jeogori.
&nbsp&nbsp&nbsp (Please present an Aiina Card or other form of ID)
■ Children's Corner (5th Floor)
● Christmas Crafts – for parents and children to make their own Christmas ornaments
● Toys of the World – let's play with toys from Russia, Malaysia and around the world!
● World Play Experience – experience the fun and games of other countries with the help of an instructor!
● Reading of foreign picture books for children, song, and crafts
&nbsp&nbsp&nbsp 11:00~12:00 Korean/Spanish
&nbsp&nbsp&nbsp 14:00~15:00 Chinese/English
■ Chatland – Enjoy the Heart of Japanese Wa! (5th Floor)
  Tea ceremony, calligraphy, Japanese children's games
● Japanese calligraphy without examples
● Origami
● Japanese children's games
● Matcha and wa-gashi (200 yen; only 150 available so come early!)
  Easy-to-learn tea ceremony experience!
■ International Understanding Workshop (5th Floor)
11:00~13:00 Workshop "The man who run - Beyond the finish tape"
10:30~ Report on the l00th anniversary of Son Gi-Jeong's birth
14:00~ Same as above
■ Sale of international understanding teaching materials (5th Floor)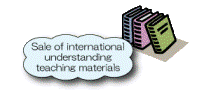 ■ Flyer
| | | |
| --- | --- | --- |
| Front (PDF: 358KB) | | Back (PDF: 432KB) |
■ Volunteer Wanted
Now is the time to register to volunteer the One World Festival global exchange event on November 18th!
For more detail, please see 
http://www.iwate-ia.or.jp/?p=1-1-info&no=1393
■ For further information
Iwate International Association
Morioka-shi, Moriokaeki Nishidori 1-7-1, Aiina 5F, International Exchange Center
TEL 019-654-8900 / FAX 019-654-8922
Email 
oneworld@iwate-ia.or.jp
URL 
http://iwate-ia.or.jp
---
Organized by : 
Iwate International Exchange Center, Iwate International Association
Organizational cooperation : 
2012 One World Festa in Iwate Realization Committee
Co-sponsored by : 
The Iwate Winter Resort Kyougikai (Council)
Additional support (planned) : 




Iwate Prefectural Board of Education, Morioka City, Morioka City Board of Education,
ICA Tohoku Branch, Iwate Nippo, Asahi Shimbun Morioka General Office, Mainichi Shimbun Morioka Branch Office, Yomiuri Shimbun Morioka Branch Office,
Kahoku Shimpo Morioka General Office, Morioka Times, Iwate Nichinichi Shimbun, NHK Morioka Broadcast Station, Iwate Broadcasting Company, Television Iwate,
Iwate Menkoi Television, Iwate Asahi Television, FM Iwate, Iwate University, Iwate Prefectural University, Morioka University, Fuji University, Iwate Chinese Association
---
■ View photos and records of past One World Fiestas
2011
2010
2010 Cooking Contest
2009
2009 Photos